Stop right there. Yes. I know. You've most likely read this before. I'm also well aware that the way this year's season has gone, it's unlikely the story would build a crescendo of anything more than a gaping yawn with most of y'all.
However, I received a request from a teammie off that '72 club for the story, so in lieu of some ridiculous poll post inquiry about "feelings" going into this game, Friday…Sure. Why not put it up ?
…And besides, you're not indentured to read on. Oh…And p**s on Carolina 'lina…
Here's to you 1972. 8-3-1 #17 AP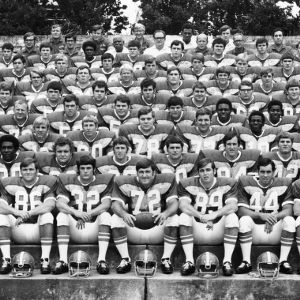 ( No…my mug is not in there. Lowly Frosh would never get a sniff of a Big Club shot, and shame on the library for a lousy crop.)
—————————————-
Everybody has a time and reason for making a life-long decision. I thought it might be fun to fire you up and get you recalling what it was that made you put the X in UNX and loathe the pastel blue.
I know where I was when it came to me, and if you feel like listening, I'll tell you the story.
OK then…
I was in Kenan Stadium on the third Saturday afternoon of September 1972. This 18 yr. old freshman from Western New York was completely healthy, dressed out, and on the depth charts for the first time as a football player for the Red and White from NC STATE!
Actually, that day, it was white over white with red lids and trim, white wristbands to the elbow and white spats. (Modified to go no higher than the ankles. Holtz rules on spats. )
Dressed to impress!
The Heels were ranked. We had tied Maryland in the opener and beaten Syracuse, and were on exactly nobody's radar. There I was, with a couple hundred Monarch butterflies ingested at pre game meal, or so I supposed. I was surrounded in light blue, with a fair share of red.
Crap, I'm getting ahead of myself. The question to the lead was…" first shunned."
Let's back up.
Midway through gearing up for practice on the first Monday before Carolina, in the bowels of Reynolds Coliseum, I noted a lack of jocularity coming from the upperclassmen side of the locker room. The familiar, often loud, good natured insults, and tales from Saturday night's post game exploits, were missing.
We freshman never cut up, reserving the smarts to not draw undo attention upon our rookie dumbasses. Well, we sort'a did, in whisper-tone, amongst ourselves, but we mostly wanted to hear what was goin' on a couple of rows over. There was not much to pick up this day. Not for me anyway, until we hit the practice field.
After quick drills, which were Lou's form of calisthenics…hands to the helmet, hands to the thigh pads in 100 man unison, we broke into positional units like we always did prior to game plan practice. For us wideouts, it pretty much consisted of pairing up and throwing the ball to each other for about ten minutes with the frustratrated QB in us, doing his best to make the partner try and come up with the most ridiculous sideline catch ever.
On this day Steve Lester was my partner. Steve Lester was the  "other" starting senior wideout in 1972. It was Lester who taught me how to recognize and take out a pitch man. It was his voice that was particularly missing back in the dressing room earlier, too.
Before I threw my first pass to him that day, I heard him say, "Angelo."
I kinda looked at him funny, like I expected more to follow.
"Lou Angelo," as he snatched my quite less than perfect spiral.
When I asked him what heck he was talking about, I received no answer, just a nifty little bullet about 3 inches off the ground. The rest of the drill went pretty much silent, and Holtz's whistle blew, signaling us to "line it up!"
Practice was routine that day, getting the package for Saturday's gamer installed. After dinner, the offense watched a little film of the Carolina defense versus Maryland's from the past weekend.
The thing about film was that for us wideouts, there really wasn't a whole lot of information to be gathered. Very few teams ran the Twin Veer, so it was tough picking up tendencies watching a future opponent defend an I-formation. The best you could do is try and find the pitchman in zone and man coverage. The problem is, sometimes the outside LB was it, sometimes the strong safety, and even the DE. You never really knew until the play was in motion against the Veer.
Maybe midway through the session, I saw a safety, # 11, put a wicked hit on a back that had lined up as a flanker. A bunch of "oohs" followed the play from the room.
Someone muffled, "there's your boy, Pat." That didn' t seem to go over very well.
"Fuck him." That came from Lester. I looked over at Pat Kenney for a reaction.
Nope. Nothin'. Maybe a squint. The session soon ended, and for the second time that day, I was left with this question mark balloon over my noggin. I wanted to ask what just happened back there, but as a freshman dressing out for the first time, I felt that if they don't tell ya straight off, ya don't ask.
Tuesday's practice was quite remarkable. The guys were really getting at it with each other. It was a mean practice, filled with plenty of expletive adjectives and verbs being tossed around, usually describing Carolina. I was beginning to think that this might not be just another game to win. 
Over dinner, Don Buckey broke a silence at our freshman round table. "Hey. Who is Lou Angelo? " I looked up and asked him where he had heard that name. "Steve Lester said it to me today. He wouldn't tell me who it was." I told Buckey about hearing the name from Steve the day before, but knew nothing either.
As we walked out of Case for the evening, I spied Lester. I had to know. I gave Buck a head twitch and we caught up to the guy with the answer. Buck said it first.
" Who is Lou Angelo? "
Lester looked at us like we had leprosy or sumpthin'.
" He broke his jaw! On a cheap hit! " Lester was pointing, pointing up ahead at Pat Kenney. He what? Pat? Pat Kenney, our all everything? The player I had hoped to emulate? Broke his jaw on a cheap hit?
 Angelo, now I got it. Number 11.
Boys and girls, by Thursday, I had a whole new take on Saturday's game. I not only was flushed by the prospects of playing in my first college game, but understood that I was now involved in some thick subplots. I was beginning to catch the current of utter despise for the coming opposition. Should I play Saturday, I was going to find a way to make Lou Angelo look bad. If the situation were to present itself, even make him pay without doing something cheap.
Midway in the third quarter, Carolina went up by 14. We came right back with a TD of our own. That's the way the game had been going all afternoon. They'd pull ahead; we'd come back within striking distance. We played from behind, but we played with confidence. I had managed to play two complete series by the end of the third quarter. They were very unremarkable minutes. Nothing really came my way. Most of the plays were spent running off the corner or just chasing to get a pad on someone across the field.
At the outset of the 4th quarter, Carolina had punted and we took possession. Holtz threw up two fingers, meaning I was about to get another series. We moved the ball pretty well, with Roland Hooks picking up most of those yards out to about midfield. We stalled though. In fact on 3rd and long, I finally had a chance to make a play. I ran a sharp 7-yard slant and had no one in front of me. It just wasn't meant to be, as Dave Buckey's pass got batted down at the line of scrimmage. Down 7, we had to punt.
I held my block until the thud and headed downfield, one eye on the ball, the other on anything in pastel. Pat Korsnick had kicked a beauty. It was high, deep, and to my side.
At around the 10 yrd line I picked up the ball again. The return man was backing off, this one was gonna' be mine baby! Inside the 5! At that moment, I got lambasted. Hit from the side and behind my knees, my arms stretched forward while my legs were planted several inches into the sod. The ball trickled into the end zone.
I was pissed! As I reached behind me to pull the sonofabitch that just got me off, I saw two things at once. On the shoulder pads of the player was numeral 11. On the ground next to me was a pretty, little, yellow hankie. We untangled and I got up first on shell-shocked pins. I extended a hand to pull #11 up along with the words,  "helluva play Lou." Something else was uttered about cheap shot, maybe his mother, too. 
Clipping…Half the distance to the goal line.
The defense kept 'em right down there and on 4th down, Mike Stultz did what he did best that year. He took their punt to the house, man, 27-27 with 6 and change to go.
The Tar Heels mounted a time consuming drive and with under 2 minutes left, punched it in for the go ahead score. Lou collected the offense and exclaimed, "hey! hey! we're gonna' score!" And down the field the O went, with a Bruce Shaw bullet here and a Bruce Shaw bullet there. I think we had a big gainer on a draw by Willie Burden, too. With 00:02 and the ball resting on Carolina's 26, we used our last time out.
Shaw came over to the sideline, and we listened to the call. Of course the guys on the sideline were a wreck, with the Baptist boys praying and the Catholic boys trying to cut deals, and the rest of the faiths putting theirs on the offense.
" Right 86″ .  Lou released his grip on Shaw. The play put Lester split wide to the left on the line of scrimmage. Pat Kenney would be flanked wide right. Steve would run a skinny post. Pat would be off to the races on a fly.
It…seemed… like…the… ball… hung… in… space… forever, near the back corner of the endzone. To my line of sight, there was nothing but that baby blue in the area. Then superman sans cape, but with a big red 25 on his chest, flew from nowhere, over the corner, and over # 11.
Touchdown. Pat Kenney. With the clock at 00:00 and the scoreboard at 34-33 and the crowd in anguish mixed with holy glee, Holtz managed to get the entire team together on the sidelines. "Men, its up to you. Go for the tie or go for two? " You probably already know the answer to that question. Lou did, too. We were going for the win!
Lou called for a middle screen for Charley Young , and then added an odd twist. He put Buck in at QB.
The play failed, miserably.
Later in the locker room, Lou would tell us that the play was the worst he'd ever called.
Yeah, we were hurt, but we were also fiercely proud heading off the grid to the field house.
As we made our way on the cinder track to that field house, the Carolina band's horn section was lined up on the edge of that track serenading us with a mocking rendition of "Old MacDonald." As I passed in front of the tubas, one blasted off a note not 12 inches from my ear hole. I don't know what possessed me, but I bent over, grabbed a handful of gravel, and rammed it right down that fat bastard's horn…game on…forever.
I never looked back and I've never looked at THAT color, that awful Carolina blue, with the same eyes since.