Triangle Business Journal staff writer Jason deBruyn released a story this afternoon with some very interesting statements from UNC AD Bubba Cunningham. The statements are interesting, but for anyone not currently sipping wine and eating cheese in the city limits of Chapel Hill they are hardly surprising.
Go here to read the full piece by deBruyn at bizjournals.com.
Cunningham said he expects the new investigation, announced by Thorp on Aug. 16, to find that irregularities occurred before 2007, and possibly before the late 1990s as well. The error that UNC-CH made when announcing results of the initial investigation, he says, was that it was not more clear that the school suspected these irregularities went back further than 2007.

Cunningham expects that irregularities that occurred before 2007 will be the same type as those found in the previous investigation. "But we have implemented changes going forward," he says.
The piece ends with this line from Cunningham:
"How far back should the investigation go? 1988? 1978?" he said. "The point is that we've made changes going forward."
For starters, would not a true investigation want to uncover the root of the problem and identify those responsible for the transgressions? To help our readers better compute the statements from UNC, we siphoned some of these terms we keep hearing through our UNC-Cheatspeak-Translator-5000. It produced some interesting results:

"Review" translates to "fake investigation to appease the masses but uncover nothing."
"Academic improprieties" translates to "cheating to keep athletes eligible so we have an unfair competitive advantage."
"Irregularity" translates to "fake classes." (Note: that this should not be confused with "easy classes.")
"Changes" translates to "shift around the people responsible but continue to pay them so they'll (continue to) be quiet."
"But we have implemented changes going forward" translates to "we will do all we can to keep from getting caught again." (This wouldn't be so funny except UNC was literally setting up fake classes while the NCAA "investigators" were still enjoying their post-"investigation" burger and beer at Top of the Heel before heading back to Indianapolis.)
"Error that UNC made when announcing results of the initial investigation was that it was not more clear that the school suspected these irregularities went back further than 2007." translates to
… well…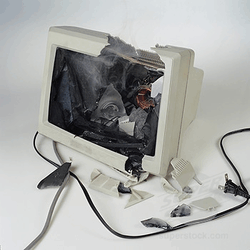 Is this what UNC has reduced itself to: The old "Welp. Now that we're caught lying what we really meant to say was…" defense? Most folks we associate with perfected that in elementary school, outgrew it in middle school, and laughed at it in high school. Yet here we have the administration from the self-proclaimed "public ivy" institution of higher education trying to shove this racket down the throats of wide-mouthed gawkers watching as they somehow amazingly keep throwing fuel on the fire they're trying so desperately to contain.
If the question is more than a rhetorical one, Mr. Cunningham, you should probably at least carry your investigation back to 1993 when Dr. Nyang'oro was promoted to be the first head of the newly created AFAM department. Within one year, 4 of 5 starters on the National Champion basketball team were proud majors in his curriculum.
A word of warning since you're asking, though Mr. Cunningham. You best hold your nose and cover your head. In case they have been as honest with you over there as they have the rest of us, you probably need to know that the guy who had your job at the time is quietly sitting in a position of power in Greensboro. You also might want to duck and cover before you open that pandora's box considering the most sacred legend in UNC athletics lore was not-so-ironically enough simultaneously in charge of your golden goose basketball program instantly filled with AFAM majors.
*****
SFN Addition:
It's clear The Flagship is desperately trying to regain control of this unraveling scandal. Governor Martin has been hired to lead an investigation, and supposedly the findings will be made public once the investigation — er, review — is complete.
The University has hired former advisor to President Clinton, Doug Sosnik, as consultant to guide them through the PR battle (WRAL):
A former advisor to President Bill Clinton has joined the University of North Carolina at Chapel Hill's public relations effort as the university weathers an investigation into academic impropriety in at least one department.

Doug Sosnik began working as a consultant for the university earlier this month, a UNC spokeswoman said Tuesday. The addition comes about 13 months after UNC hired a Raleigh public relations firm to work on academic issues and two years after the NCAA began a probe into rules violations within the university's football program…

Details on Sosnik's compensation have not been released. The school has paid nearly $600,000 on academic scandal-related services, but says none of that money came from taxpayers.
Previously, this was reported (WRAL:
Martin and his team plan to review more departments and all athletic programs at UNC-CH. He said that Thorp asked him to complete his work by mid-October and that he plans to get started early next week.

"And non-athletes, if you have a class that gives an easy grade to everybody, I think that needs to be identified as a corruption of the process," Martin said.

Martin said Thorp told him everything is fair game in the investigation – no restrictions, no limitations. The report of Martin's findings will be made public once it is complete.

"(We will) go where the evidence takes us," Martin said.

There's no dollar figure on the upcoming review. However, the school has paid nearly $600,000 for other scandal-related services. Outside legal bills are estimated at about $467,000 so far. Additionally, for the past 13 months, the school has paid a Raleigh-based communications firm $113,000.
Question 1: Why, after two years of evading, lying and redacting, is UNC still dictating the terms of this investigation? How independent is that? The arrogance, even amidst a failed system, remains astounding.
Question 2: Will we see the results of Martin's investigation in their entirety? Or, will Thorp & Co. continue the policy of redacting anything incriminating and hiding behind FERPA and forcing the media to file FOIA requests?
Question 3: It seems noble that no taxpayer funding is being used for a PR consultant. But, will the use of private funding provide a neat loophole to prevent FOIA requests if the report is in any part redacted?