It's a Red Out, Not a Black Out on Thursday
There was a misinformed tweet going around last night that State would be wearing all black uniforms on Thursday night for our national TV game vs Clemson but those rumors were 100% false. Â The official Twitter handle @PackFootball quickly put an end to those rumors by tweeting out a status and picture.
We will be rockin' the red Thursday. Will you?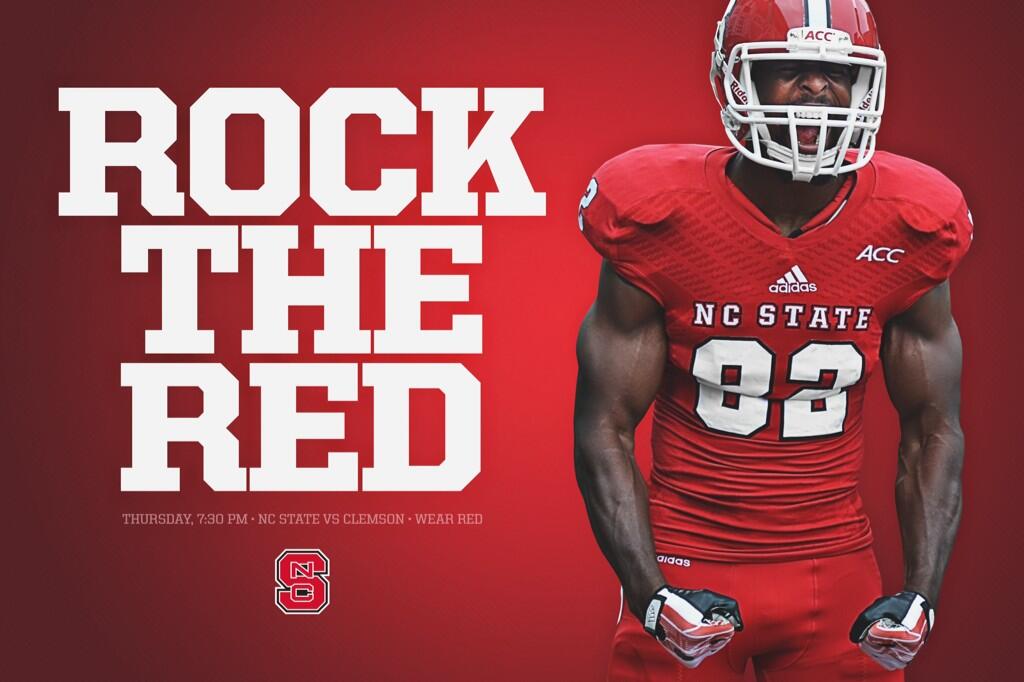 Which got a response from New Orleans Saints TE, and brother of Asa Watson (pictured), Benjamin Watson.
RT @BenjaminSWatson: Lil bro looking swole! Lets go Asa!
So in summary, WEAR RED on Thursday night, dress your kids in all RED and Tell your friends to wear RED.
With that said, I wanted to add my 2 cents on the whole black uniform issue. Â It's a topic that for some reason really works up the State fan base and earlier in the year during one of the Wolfpack Caravans Coach Doeren was asked about black uni's and said:
"Our fans want to see red and white," Doeren said. "They don't want to see black jerseys and matted helmets. They want to see red and white. Our fans are very traditional and very proud of the school colors."
No don't get me wrong, I love red and I think the 'Red Out' will be great. Half my clothes are red, my car is red, my wife has red hair (not really) and my dog is red (that would be cool though) but if the players and coaches want to wear black uniforms for a game or 2 who really cares? I know it is the older generation that makes a big fuss about non-traditional uniforms but I don't understand why. Â If the coaches and players wanted to wear neon-pink uniforms because they played better or because the recruits like it I am all for it. Â As a good friend of mine once said, "If you look good, you feel good, you play good."
So let's have it, what's your opinion on the black uniforms?